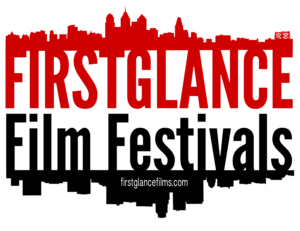 FirstGlance Film Festival, Philadelphia's Independent Film Festival since 1996, is holding its 21st annual indie film fest, Friday, October 12th through Sunday, October 14th at Painted Bride Art Center, 230 Vine St, Philadelphia, PA.
Filmmakers and films with a Philly/local connection screening at FirstGlance Film Fest include:
Friday, October 12th 7:45 p.m.
Bill McGarvey – Broken Lullaby – Originally from Philadelphia, Bill McGarvey is a Hoboken, NJ based musician, writer and producer. He produced, co-wrote and co-directed this animated music video.
Persia White – Carousel – Carousel explores how the repercussions of past actions, like a carousel, come back to you in the revolving cycle of life.
It's a story of love, loss and the hope for redemption, starring Joseph Morgan and co-written, produced and starring Philadelphia native Persia White.
Saturday Matinee, October 13th 2:00 p.m.
Nate Kresege – Poured in Pennsylvania – The documentary, Poured in Pennsylvania, illustrates the importance of the – but newly redeveloped – beer industry and its impact on Pennsylvania.  Philadelphia-area breweries featured in the film include 2SP Brewing Co., Dock Street Brewery, Earth – Bread + Brewery, Free Will Brewing Co., Iron Hill Brewery & Restaurant (Ardmore), Love City Brewing Co., Saint Benjamin Brewing Co., Victory Brewing Co., and Yards Brewing Co.
Saturday Night, October 13th 7:30 p.m.
George Pasles – Mission to Mars – Bucks County's George Pasles directed the music video Mission to Mars.  Shot entirely in the Philadelphia area, the historical science fiction piece explores what would have happened if NASA went through with their 1969 manned exploration of Mars.
Sunday Matinee, October 14th 2:00 p.m.
Ricky Staub – The Cage –.The Cage is an honest picture of redemption in the face of overwhelming darkness directed by Philadelphia's native Ricky Staub. The film utilizes a cast of non-actors from the community of North Philadelphia, bringing raw authenticity to the story of a teenage basketball player's survival on Philly's streets that entangle him with violence, anger, and death. The feeling of entanglement in the film is emphasized through incredible visual effects by Jeremy Fernsler, the celebrated digital compositor behind films like The Girl on the Train and The Road.