The Greater Philadelphia Film Office's Going Greener campaign was initiated to help productions reduce waste and diminish their impact on the environment. The green production guide, Greener SETS (Setting Entertainment Toward Sustainability), will not only help each department lessen their production's environmental footprint, but it will also provide you with information applicable to your everyday life. The guide includes sections on all of the following:
A Recycling in Philadelphia section outlining Philadelphia's commercial recycling regulations.
This will be a continually updated electronic resource for the entertainment production community, so if you would like to contribute feedback, more best practice suggestions, or new vendor information, contact our Greener SETS team.
Pre-Production

Set Construction

During the Shoot

The Strike/Post-Production

Carbon Offsets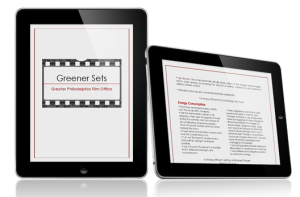 Help Philadelphia become "the greenest city in America" by promoting sustainability and healthy work environments, and setting a good example for future productions, inside or outside of Philadelphia.
Now is the time for Philadelphia to become the industry leader in green film production!
— GPFO Staff
 About Karyn Gerred, SETS author
Karyn Gerred is a painter and professional scenic artist in United Scenic Artists Local USA 829. She studied fine arts/painting at the University of the Arts in Philadelphia, graduating with a BFA in 1989. After several years painting for theater, television and feature films, she became increasingly alarmed by the environmental impacts of the entertainment industry, and decided to redirect her efforts from working on productions, to working on changing the way they are made. After extensive research, she wrote SETS in 2008.  The GPFO continues to maintain it to ensure that it remains an up to date green production resource for the industry.
In 2009, she founded The Resource Exchange, Philadelphia's Center for Creative Reuse – a nonprofit gallery, shop, & maker space that provides inspiration and reclaimed materials for creative and environmentally resourceful making, teaching & living. The organization's first program, reSETS , targeted waste materials specifically generated from the entertainment industry. In addition to film and theatre props and scenery, they now save a wide variety of reclaimed materials to be creatively reused in new visual and performing art works, classrooms, and countless community and individual art projects and activities.
If you'd like your organization to become a GPFO Green Partner, please contact GPFO at mail@film.org.