SUPPORT & BECOME A GPFO

EXECUTIVE PRODUCER

As the film commission we have attracted and helped coordinate all film & TV productions to the Philadelphia region, and the thousands of family sustaining production jobs they provided, since 1992. As a non-profit, we serve filmmakers of all genres and budget levels for free. That's right- the filmmakers we serve don't pay us for our services– we rely on gifts from donors like you. Please help us bring more of these jobs to our region by giving a gift of a tax-deductible donation to become our GPFO "Executive Producer".
Films have executive producers and we need our own "Executive Producers" to support GPFO. We, the Greater Philadelphia Film Office (GPFO) have been responsible for impacting the local economy with over $5 billion dollars since 1992. Our successful 26-year track record of attracting studio and indie TV & film production, expertly assisting with coordination, supporting students, and advocating for film incentives to keep the business coming has been possible because of donations from supporters like you.

Your support also helps us empower and educate the existing creative community in Philadelphia through our inclusive programs and workshops, our internship program, our online resources for filmmakers, screenwriting competitions and much more. Our mission to attract film & TV production not only helps create films, it helps stimulate the local economy in every sector and create jobs.
A strong Philadelphia film-industry and production workforce is possible. Your donation makes it happen. As a thank you for becoming our "Executive Producer", you will get exclusive invitations to lots of special events, year round.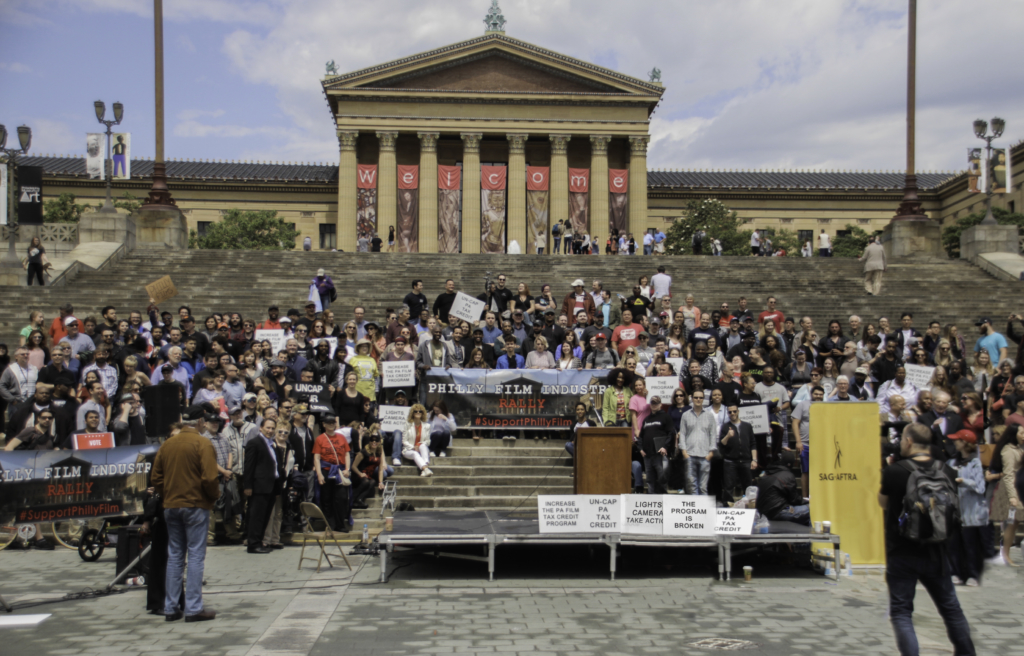 GPFO's 'Rally for Philly Film' where local production crew, onscreen talent and supporters of the Philadelphia film industry gathered to demand the uncapping of the PA Film Tax Credit program. #filmtaxcreditswork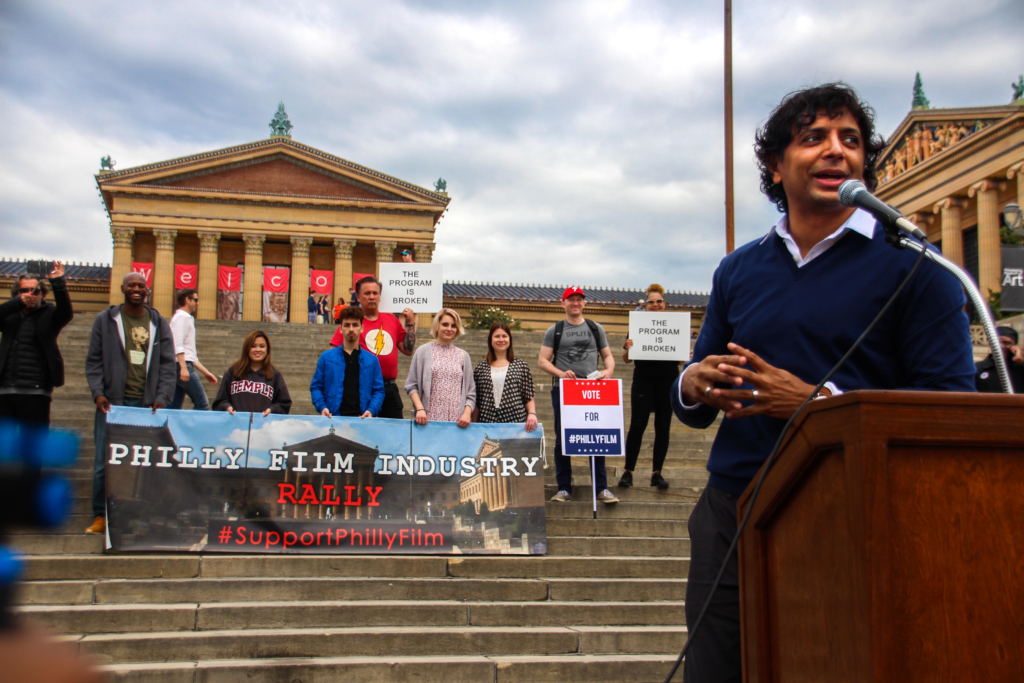 Director M. Night Shyamalan speaking at GPFO's 'Rally for Philly Film' in support of uncapping of the PA Film Tax Credit program. #filmtaxcreditswork

$5000
STUDIO
DONATE $5000 NOW!
Donations via Paypal

$3000
MOGUL
DONATE $3000 NOW!
Donations via Paypal

$2000
CELEBRITY
DONATE $2000 NOW!
Donations via Paypal

$1000
AGENT
DONATE $1000 NOW!
Donations via Paypal

$500
PRESS
DONATE $500 NOW!
Donations via Paypal

$____
OPEN CALL
DONATE ANY AMOUNT NOW!
Donations via Paypal
Gifting Appreciated Stock?
Click here to learn how to support GPFO with a gift of stock, bonds, mutual funds, treasuries, unit trusts, and many more types of securities using GPFO's tax status. This can save you even more on your taxes than a cash gift which you are planning to give.
Take action and contact JP Cummins to get your gift to GPFO today.
phone: 610.254.1123
toll free: 800.866.7608
fax: 610.964.1842
email: jcummins@janney.com
On behalf of the Greater Philadelphia film community, we thank the following GPFO "Executive Producers" for 2018.
Studio level
David & Hallee Adelman
---
Mogul level
Kelly Ryan
---
Celebrity level
Teamsters Local 817
Tina Byles Williams
Agent level
The Snider Foundation
Sylvia Blume
Marjorie Honickman
Larry Pitt & Associates, PC
David Bowers & Associates
All Ages Productions
Joseph H. Weiss
Robert I. Whitelaw
Mark Kuna
Brian Costello
Georgeanne M. Bruzzese
Frank Lipsius
Toby Strogatz
Press level
Sheller Family Foundation
Avery Foundation
Brian Wade
Steve Rotfeld
Merle Raab
Garrett Brown
Open Call level
Dana Michael
Jeremy Kay
Dena H. Robbins
Dr. Thanuja Hamilton
Marlene Taylor
Ross F. Schriftman
Suelle Corporation
Ayisha Henry
Ruth Stoolman
Bernard Glincosky
Stephanie Brandow
Dante Renzulli
Irina Rabovetsky
Gregory Munson
By JoAnn, Inc.
Patricia Weiser
David Garrigues
Donna Livingston
Melissa Davey
Phuong Nguyen
Michele Littman
Helen & Thomas McNutt
Scott & Patrica Sanders
BEPhotos
Meghan McCullough
Larry Korman
Larry Magid
Francis McDonnell
Alan M. Gold
Benjamin Vaynshelboym
Roshelle Lennon
Lisa Rysinger
Deborah Epstein
Steven Berry
Brian McDaniel
Michael Massimino
Greater Philadelphia Film Office is a 501(c)(3) non-profit economic development agency, so your donation is fully tax deductible. Federal Tax ID # 23-3039429