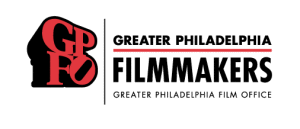 GREATER PHILADELPHIA FILMMAKERS PROGRAM
Greater Philadelphia Filmmakers (GPFM), established in 2001, is a natural extension of work that the Greater Philadelphia Film Office has fostered for years.  In addition to attracting production to the region for the purpose of economic development, the Greater Philadelphia Film Office is committed to nurturing the local industry in every way possible.
'Filmmakers' is designed to meet the needs of local media artists and technicians with seminars, business and technical training to help aspiring and experienced film professionals:
Improve overall skills
Build networks and working relationships
Access jobs and production information on our jobs hotline
Learn about internship programs
Participate in and benefit from community outreach
Stay abreast of technology updates
Receive screening and event notices
In short, 'Filmmakers' creates an environment that inspires and encourages ongoing dialogue and activities to survey and meet the needs of the local film & video community.
 'Greater Philadelphia Filmmakers' Program Events.  Standby for new programming as soon  as safely allows!
'Filmmakers' Programs
On-going:
Greater Philadelphia Filmmakers also facilitates events and workshops, alone and in partnership with other groups, to enhance the knowledge and experience of our local film and video community with events such as "Everyday Production," "The Writers' Room," "SAG AFTRA Diversity Initiatives," "Entertainment & the Law," "Women in Film" and more. Our approach is to remain flexible and support the indigenous media community by filling needs as they present themselves. This is a work in progress; the programs of Greater Philadelphia Filmmakers will continue to evolve as needs change.
Community Outreach:
Representatives frequently visit classrooms and public forums sharing information on the film business, jobs in the industry and the impact on our region.
For more information about these and other 'Filmmaker' Programs please contact joan@film.org or call 215-686-2668.